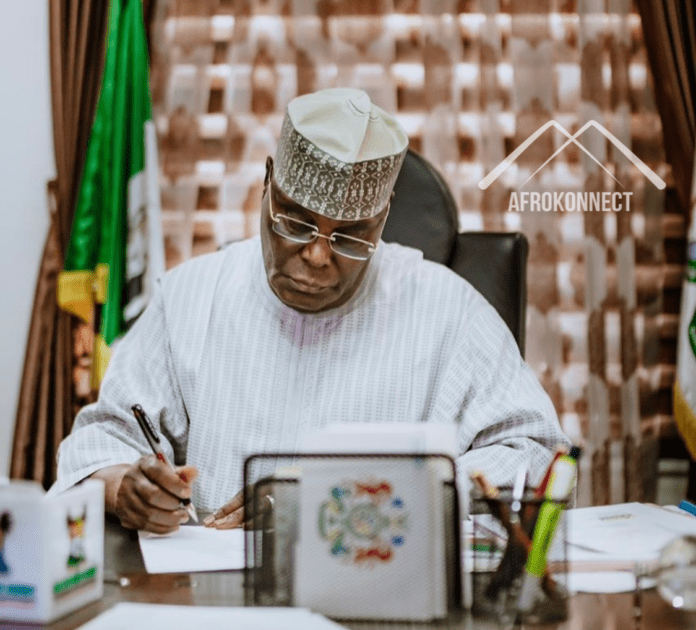 Welcome to this article about Atiku Abubakar Biography, Career and Net Worth in Naira and Dollars in 2023 via Afrokonnect.
Former vice president of Nigeria (1999-2007), current and future presidential contender for the People's Democratic Party,
Atiku Abubakar is the Waziri of Adamawa state in northern Nigeria.
His term as vice president ends in 2007. In this piece, We will go through the life and career of Atiku Abubakar,
Including his biography, the companies he owns, the homes and vehicles he owns, and his family.
Atiku Abubakar Biography, Career and Net Worth in 2023
Detailed Biography
On November 25, 1946, Mr. Atiku Abubakar was born in Jada, Adamawa State, Nigeria,
The northern region of Nigeria is home to one of the states.
Following the completion of his basic schooling,
He then attended Adamawa Provincial Secondary School in order to complete his secondary education.
After completing his studies at the Nigerian Police College,
He moved on to pursue a career as a tax officer at the Regional Ministry of Finance.
After some time had passed, he re-enrolled at the renowned Ahmadu Bello University in Nigeria in order to get a Diploma in Law there on a scholarship.
After completing his education, he obtained a position with the Nigerian Customs Service.
His Foray Into the World of Business
Atiku dedicated the first two decades of his adult life to working for the Nigerian Customs Service.
Because of his dedication and his consistent effort, he was promoted to the post of Deputy Director,
Which at the time was the second-highest position that could be held in the service.
In 1974, he submitted an application for a loan for 31,000 Naira when he was still working as a customs officer in his younger days.
After being granted this loan, he used the money to make investments in the real estate market.
What was his strategy here? He used the money towards the construction of his first home in Yola.
When he had finished building the first house, he placed it up for sale and used the money he made from the sale to fund the construction of his second home.
In Yola, he would purchase individual pieces of land and then construct residences on each one as he went along.
Atiku Abubakar Biography, Career and Net Worth in 2023
After gaining some notoriety in the field of real estate and having some success there, Atiku ventured into the agricultural sector in the year 1981.
He bought 2,500 hectares of property in the vicinity of Yola, the capital city of Adamawa state,
To demonstrate to you how serious he was about establishing a reputation for himself in that industry as well.
The failure of the agricultural enterprise that had been operating on this property since 1986 came about after a period of time,
During which it had been used for the growing of cotton and maize.
When he had got over that traumatic event, he decided to put his money into something else.
Investment and Risk by Atiku Abubakar
At this point, he was engaged in the business of purchasing and selling rice, flour, and sugar.
While he was still working for his nation as a customs officer at the Apapa ports,
Atiku made the business decision that was ultimately responsible for catapulting him to the level of success he enjoys today.
His acquaintance apparently suggested he start Nigeria Container Services, a logistics firm that serves ports (NICOTES).
This business is responsible for the vast bulk of his riches that he has today.
Even after he left office in late 2020, the former vice president of Nigeria made a significant portion of his fortune through the sale of NICOTES, which are now known as INTELS.
Adama Beverages Limited, which is located in Yola, is only one of several profitable companies that he has established over the years.
In Yola, which is located in Adamawa State, the firm makes several kinds of drinks.
It is said that he is the owner of a plant in Yola that manufactures animal feed.
Atiku is widely regarded as one of the most successful entrepreneurs in the modern era,
As a result of his remarkable success in the commercial world in Nigeria.
It is said that he is the greatest employer of labor in the private sector in Nigeria at the present time,
Due to the fact that all of his businesses together employ more than 50,000 people.
It goes without saying that his school, the American University of Nigeria Yola, is excelling in many areas,
Including academics, so I won't bother mentioning it.
Atiku Abubakar Biography, Career and Net Worth in 2023
Relationships Within His Family And Marriage
Atiku Abubakar has a very big family and a very comfortable house thanks to his four wives and his 28 children.
He is one of the few Nigerians who has married someone from each of the country's three most prominent ethnic groupings (Igbo, Hausa, and Yoruba).
When they first encountered each other in 1971, Titilayo Albert, the first wife, was just 19 years old.
They married in secret that same year. The happy couple didn't have to wait long before they were presented with the gift of a daughter, whom they called Fatima.
She is the mother of Adamu, Halima, and Aminu, who was her third and last kid. Titi, another name for her, is one of her nicknames.
Abba, Atiku, Zainab, Ummi-Hauwa, Maryam, and Rukaiyatu were Atiku's six children with his second wife, Ladi, whom he married in 1979.
After being married to Ladi for four years, he then wed Princess Rukaiyatu, who was the daughter of the late Lamido of Adamawa.
She gave birth to Aisha, Hadiza, Aliyu, Asmau, Mustafa, Laila, and Abdusalam. He tied the knot with Fatima Shettima in the year 1986.
That brings his total number of spouses up to four. Amina, Mohammed, Ahmed, Shehu, Zainab, Aisha, and Hafsat were subsequently born to Fatima after she had given birth.
Atiku and his wife Ladi separated after a period of time had passed.
After going through with this particular divorce, he eventually wed Jennifer Iwenjiora Douglas, bringing the total number of his marriages back up to 4.
Atiku Abubakar Biography, Career and Net Worth in 2023
Rise to Power in Politics
Atiku Abubakar has been an influential figure in Nigerian politics since the 1980s, when he first entered the fray.
He entered politics for the first time in 1989 when Yar'Adua, then president of the Peoples Front of Nigeria, appointed him as the organization's National Vice Chairman.
After winning the election for the seat that year, he served as the representative for his district in that same year.
In December of 1998, he was declared the victor in the elections for governor of Adamawa State;
However, before he could be sworn in as governor, he received an invitation from Olusegun Obasanjo,
The previous head of state, to be his running mate in the 1999 presidential elections. This prevented him from taking office immediately.
He instantly accepted this offer, putting his hopes of becoming governor to rest in the process,
Atiku and Obasanjo emerged successful from the election they were running together in as well.
He was inaugurated in as Vice President of Nigeria on May 29, 1991, after being elected with his boss in the elections that took place in 1999.
During his time as vice president, Atiku was tasked with the responsibility of divesting the government of businesses that were not meeting expectations.
Something that, owing to its execution, continues to draw widespread criticism from Nigerians to this day.
When Obasanjo decided to run for reelection in 2006,
He decided to have Nigeria's constitution changed so that he could do so.
A bid that was strongly resisted by his vice presidential candidate, Atiku Abubakar.
Atiku Abubakar Biography, Career and Net Worth in 2023
It has been claimed that the former vice president said, in his own words, in an interview:
When I asked him why he was being asked to step down after just eight years in government,
He said, "I left power twenty years ago, I left Mubarak in office, I left Eyamdema in office, I left Umar Bongo and even Paul Biya and I came back and they are still in power." In response, I told him, "Nigeria is not Libya, not Egypt, not Cameroon, and not Togo; you must go; even if it means both of us losing money, but you cannot remain."
As a result of this disagreement with his superior,
The former vice president resigned from his position with the People's Democratic Party and ran for president on the ticket of the Action Congress in 2007.
Following Umar Musa Yar'Adua of the PDP and Muhammadu Buhari of the ANPP,
He finished in third place, according to the official results of those elections that were announced by INEC.
After making his way back to the People's Democratic Party (PDP) in 2017,
Atiku was nominated to be the party's presidential candidate.
He ran for president in 2019 with Peter Obi, a former governor of Anambra State,
Who served as his running mate. Once again, he was defeated, but this time by Muhammadu Buhari of the APC.
In the presidential election of 2023, he will be running as the candidate of the People's Democratic Party (PDP),
Against Bola Ahmed Tinubu of the All Progressives Congress (APC) and Peter Obi of the Labour Party.
House, Cars, and a Private Jet Belong to Atiku
The Turaki of Adamawa is the proud owner of a number of stunning homes located all throughout Nigeria, including in Yola, Abuja, and other cities.
It is said that the former vice president has a sizable collection of high-end automobiles in his garage.
It is also said that he is the owner of a private plane that is considered to be among the most costly in the nation.
Atiku Abubakar Net Worth in 2023 According to Forbes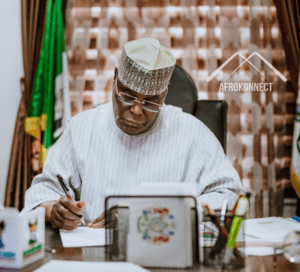 Atiku Abubakar is now one of the wealthiest individuals in Nigeria with a net worth of $1.5 billion in 2022,
Which translates to 625,500,000,000 Nigerian Naira (625.5 Billion).
This places him among the top five richest men in Nigeria.
Atiku Abubakar Biography, Career and Net Worth in 2023
Conclusion
That is all there is to know about Atiku Abubakar's net worth in 2023.
On that note, this brings us to the end of this article about Atiku Abubakar, let us know what you think about the post.