Khaya Dlanga Biography, Career, Age, Book and Net Worth in 2023 via Afrokonnect.
You are about to find out about the prolific South African author, speaker, marketer and a blogger for the Cape Times popularly known as Khaya Dlanga,
He is also affiliated to Mail & Guardian online and News24 online.
What people don't know is Khaya Dlanga was a YouTuber with more than 9,000 subscribers and 5 million views before he ventured into the marketing niche,
No wonder today he's one of the best-selling authors, His digital marketing skills and creativity seems to have a perfect sync.
Some of the books he wrote and still trending in stores includes "Things Really Do Happen To Me" and "To Quote Myself: A Memoir",
Often times they are regarded as Khaya Dlanga best-selling books so far in his career.
Khaya Dlanga has worked with big branded companies like Coca-Cola and Heineken amongst others,
Currently, he works at Rain Mobile, a South African telecom company, as the Chief Marketing Officer.
In this post, we will be looking at the Khaya Dlanga biography, date of birth, career books, marriage (wife) and his net worth.
Khaya Dlanga Biography, Net Worth in 2023 and Career
First of all, Khaya Dlanga was born on the April 16th, 1980 in Transkei, South Africa,
This practically means he's a South African by birth and even origin.
While he was growing up he had his education from 1991,
That was after the apartheid regime in South-Africa when blacks were segregated from the white,
Khaya Dlanga was lucky enough to be one of the blacks who were enrolled in a school in South Africa.
Things started to turn sour when Khaya Dlanga had to drop out of advertising school due to financial constraints,
On 14th March in 2020 a tragedy happened when he lost his brother, Nganga Dlange.
All of this did not stop Khaya Dlanga from dreaming, he kept on pushing and fending for himself,
Khaya Dlanga backed himself in all the situations he found himself.
In the next section of this article we will look at Khaya Dlanga Career growth and journey so far.
Khaya Dlanga Career, Books, Net Worth in 2023 and Biography
After dropping out of his advertising school due to financial constrains,
The young enthusiastic marketer struggled to get a job in the advertising industry,
Just like it's hard to get into school it has been tough to also secure a job in South Africa.
Fortunately for Khaya Dlanga he was creative enough to pull stunt that caught the attention of an agency,
Khaya Dlanga wrote the funniest CV you would ever come across.
He narrated how his funny CV worked for him, he said;
"I didn't have a qualification and wanted a job at a highly awarded advertising agency, My CV was to show that I can be creative and funny, which is what they wanted."
Khaya Dlanga's earliest job as product marketing officer can be traced and linked to when he was a Senior Communications Manager of Creative Excellence,
He also worked as the Senior Communications Manager of Creative Excellence and Digital at Coca-Cola South Africa for Six years.
Due credit to Khaya Dlanga as he was behind the a Coke share campaign which began in Australia and enrolled in South Africa,
To the end extend that the work Khaya created for South Africa ended up being adopted by 94 countries.
While Khaya Dlanga was with the company, the advertising work developed passed research at a rate of 26%,
he began an innovative process that saw over 85% of the work he developed pass research also.
From March 2003 till April 2007, Khaya worked as a Copywriter at the Jupiter Drawing Room Cape Town and Black River FC,
He moved on to the Metropolitan Republic, where he worked as s content planner from May 2007 till June 2010.
From July 2010 he worked as the Senior Communications Manager of Creative Excellence and Digital for Coca Cola South Africa, till February 2016.
After which he became the Marketing Manager for Heineken,
He was also a frequent writer for the Cape Times and the Mail & Guardian online, News24 online.
Khaya is currently the Chief Marketing Officer at Rain Mobile, a South African telecommunication company.
Khaya Dlanga Biography, Net Worth in 2023 and Career
Khaya's enviable gift for storytelling makes people want to hear his stories and also to trust him with theirs,
He written on a wide range of topics, from the secrets our parents think they keep from us to the real reasons we stay in relationships,
Khaya Dlanga has also written about many everyday issues and situations.
In March 2020 Khaya found himself bereaved, alone and facing an indefinite lockdown as a result of COVID-19,
Like most of us, he turned to social media to maintain some human connection and his followers came through and kept him going.
Khaya Dlanga
Books
In 2012 Khaya published a book titled "In My Arrogant Opinion",
He followed back the Project three years later with his second book "To Quote Myself: A Memoir" which was published in 2015,
In "To Quote Myself: A Memoir" which was published in 2015 Khaya expressed humorous and touching stories about his background and upbringing in Transkei,
While speaking about the book, Khaya said;
"I actually didn't want to write a memoir, but my publishers kept on persisting,
They have been asking me for almost two years.
And I kept on saying no, no, no because I haven't done anything special like cure cancer nor have I sorted out peace between the Israelis and the Palestinians."
In September 2018 Khaya Dlanga published "These Things Really Do Happen to Me" which also went viral,
Just like the name implies, the book was also about his personal life experiences while growing up.
ALSO READ: Dj Zinhle Biography and Net Worth 
Awards and Recognition
Khaya is well recognized in and outside the shores of South Africa,
As his work has gone global and highly prioritized by many,
He has been nominated in different categories of awards and has won a couple of them,
Some of his awards and Recognition came from;
Gold Loerie for Marketing effectiveness

Gold Cannes lion

Black Eagle

Honorary membership in the University of the Witwatersrand Chapter's Golden Key Award.

The best-selling author, Khaya was mentioned in Jeremy Maggs's book, "Annual on Advertising, Media, and Marketing" as one of the 100 most influential people in media.

He also appeared in the 2009 published Financial Mail's "Ad Focus New Broom of the Year".

To Quote Myself: A Memoir was nominated for the Alan Paton Sunday Times Non-Fiction award.
Khaya Dlanga and Dr. Nokukhanya Khanyile (Wife and Relationship)
According to several sources Khaya Dlanga is not married,
However, he is engaged to Dr. Nokukhanya Khanyile, the vice president of Mental Matters.
Khaya Dlanga Net worth in 2023
The prolific writer's net worth is a combination of all his streams of income,
With three solid bestselling books published, Khaya Dlanga is one of South Africa's favourite authors,
His ability to write candidly and authentically about himself and his world has resonated with readers from all walks of life.
From his book sells, personal investments, Endorsement deals and blogging royalties Khaya Dlanga Net Worth is estimated to be around $200,000 which equals over 3,072,610 South African Rand.
ALSO READ: Spitch Nzawumbi Biography and Net worth 
Profile Summary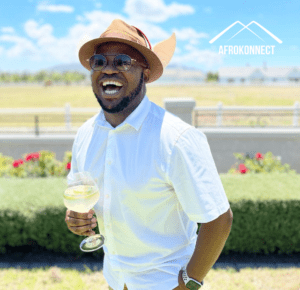 | | |
| --- | --- |
| Name | Khaya Dlanga |
| Date of Birth | April 16,1990 |
| Nationality | South African |
| Net worth | $200,000 |
| Occupation | Author, Blogger |
Social media
Khaya Dlanga is an active user of the social media network, and you can follow him on;
Twitter: @khayadlanga

Instagram: @khayadlanga
In the video below Khaya Dlanga talked about what it was like being one of the first YouTube stars from South Africa;
Congratulations, you've made it to the end of this article about Biography, Career, Age, Book and Net Worth in 2023 via Afrokonnect,
Don't forget to share and drop a comment if you have any questions or Suggestions.