Welcome to this article about Baby boy AV Biography, Career, Songs, and Net Worth in 2023 via Afrokonnect.
A fast rising Nigerian Afro-Pop singer and composer that is penetrating into the Nigerian music industry,
Adindu Victor is also known professionally as AV or Baby Boy AV, he is recognized for his work under any of those names.
Benin City, which is located in Edo State, Nigeria, is where he was born in the year 2000.
He is originally from Delta State though, which is also located in Nigeria.
Baby Boy AV Biography, Career, Songs, and Net Worth in 2023
Given that AV comes from such a musical background, one may assume that it was inevitable for him to pursue a career in music at some point.
The musical talents run in the family; his dad plays guitar and many of his brothers can sing.
AV is the family's youngest and last kid. He is also the brother of Director Dindu, a well-known cinematographer in Nigeria.
When AV initially relocated to Lagos in 2018, he began pursuing music as a career,
Then he also made his debut as a recording artist at a studio there that same year.
His first single, a freestyle named "Blow," was released in the year 2019, marking the beginning of his career in the music industry.
His true name is Adindu Victor, and the letters of his given name, A.V., were the inspiration for his stage moniker, AV.
In the year 2020, AV shot to prominence with the release of his smash hit single titled "Big Thug Boys."
The record maintained top places across a variety of music charts in Africa.
AV is quoted as saying that the song was inspired by his buddies who are "real-life gangsters",
In the sense that they are fearless, do not care what others think of them, and go for what they want.
The recording of the song took place on the beach. Director Dindu, who is AV's older brother, is the man behind the camera for the accompanying music video.
A lot of people wrote off AV after his breakthrough with "Big Thug Boys," but he came back with "Confession," another smash song.
In 2022 he kept the momentum going with two smash singles titled "Jiggy" and "No dey Form",
To be honest, there's no sign of slowing down from AV because the thug boy is talented and loves to put out good music.
Baby Boy AV Biography, Career, Songs, and Net Worth in 2023
Discography
Thug Love EP – 2022
No Dey Form – 2022
Jiggy – 2022
Confession – 2021
Big Thug Boys – 2021
Hustle – 2020
My Song – 2020
Temperature – 2020
Baby Boy AV Net Worth in 2023
You're probably not here for Av biography or his career, so let's talk about his Net worth value.
After his breakthrough in 2021 with his hit single Big thug boys AV's value has risen as aspect,
His song was topping charts in different countries around the world and that means more streaming royalties,
Aside streaming royalties he was also performing at different shows because everyone wanted to see the boy behind that hit record,
From all his multiple streams of income, in 2023 Baby boy AV is said to have an estimated net worth of $125,000 which equals around 52,620,000 Nigerian Naira.
RECOMMENDED:
Baby Boy AV Biography, Career, Songs, and Net Worth in 2023
Profile Summary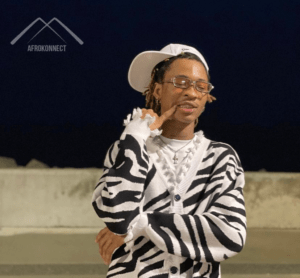 | | |
| --- | --- |
| Real name | Adindu Victor |
| Stage name | AV, Baby Boy AV |
| Date of Birth | 2000 |
| Nationality | Nigerian |
| Profession | Musician, Recording act |
| Years active | 2020 – Present |
| Net worth | $125,000 – Nigerian Naira 52,620,000 |
Social Media
AV is among that the new generation of social media enthusiast and a product of social media,
His song blew up on social media platforms like TikTok and Instagram before the radio picked it up,
So as you would expect, he's an active user of social media and you can follow him via the handles below;
Instagram: @babyboyav
Twitter: @babyboyav
On that note, this brings us to the end of this publication about Baby boy AV Biography, Career, Songs, and Net Worth in 2023 via Afrokonnect.
If you enjoyed reading this article please kindly share it on social media and tag us for repost.