Focus on West African Music: The Impacts and Influence In The Globe and on Afro beat via Afrokonnect.
INTRODUCTION: West African Music – The Impacts and Influence of Afro Beat In The Globe Today
The music of West Africa has a significant history,
Its varied sounds reflect the wide range of influences from surrounding countries and historical periods.
Traditional West African music varies due to the regional separation of West Africa,
Yet it can be distinguished by two distinct categories: Islam music and indigenous secular music.
In West Africa, music creators like Zlatan Ibile, Olamide, Burna Boy,
Sarkodie, Shatta Wale, Stonebwoy, Busiswa, Casper Nyovest, Naira Marley, Wizkid and Davido amongst others,
Have curated tracks that looped into and balanced in pop culture spaces,
and most times they alter our behaviors and perspectives, how we react to their music publicly and see society inclusively.
Although the African elements of African American musical culture remain strong,
The music of African Americans is a hybrid of the musical traditions of Africa, Europe,
And Native American cultures, along with other influences from around the world.
Also Check Out: Universal Music Group Creative Internship Program  
How has African music influenced Western music?
Mass Media & Entertainment
The appearance and development of the mass media and entertainment industries in the early 20th century,
Was perhaps the single most important factor in the worldwide popularity of African-American musical forms that developed after the Civil War.
The objects connecting mass media technologies to African American life and culture stretch across nearly a century of history,
encompassing a broad swath of American history and technological developments i.e Social Media.
Musical Crossroads presents items ranging from a phonograph owned by an early 20th century black family,
To the MIDI Production Center and Minimoog synthesizer used by trailblazing hip hop producer J Dilla.
How does West African music and dance influence music today?
Global Impact and Influence
In addition to their fundamental influence on American culture,
The stories about African American music being told in Musical Crossroads had a seismic impact on world musical culture.
Because of mass media technologies and the broad influence of American culture on music around the world,
African Americans' musical innovations have influenced artists in almost every corner of the world,
and there are enthusiastic international audiences for black musicians.
Promotional materials from international tours by African American artists including Lena Horne, Davido and the Black Rock Coalition demonstrate the impact that practitioners of African American music have had on global popular culture.
Any story of the global impact and influence of African American music also needs to include explorations of the Afro-diasporic connections,
that continue to enrich the music of the Americas and the world.
African American musicians throughout history have drawn inspiration from African-derived music in the Caribbean,
And Latin America, as well as the African continent itself.
Why is African music unique Today?
SOME AFRICAN SONGS THAT ARE CURRENTLY INFLUENCING AMERICAN MUSIC AND THE WORLD:
Jae5's "Dimension" featuring Rema & Skepta
Jae5 is both British and a West African music creator,
He is a British-Ghanaian Grammy award-winning record producer who's raked huge streaming numbers with his debut single, "Dimension",
which entirely comes from and speaks for Afro culture.
The story that accompanies Dimension is a major significant on pop culture.
In the creation of Dimension, Rema delved into storying his past through the chorus and pristine hook that depicts a young Nigerian hustler trying to survive;
His stories certain hindrances that tend to keep one from achieving his/her desires as he illustrates with his peers that desperately pray for their freedom.
He sings to express the depth, "Some of my brothers dey wey dey serve time/They wanna be free, they all wanna see the sunlight."
These lyrical examinations slightly tally with police brutality and harassment in West Africa (Nigeria),
as well as Skepta's flows that examine myriad plight from bad governance,
and their consistent deception upon citizens, their corrupt practice, and putting human lives to jeopardy.
Dimension is driven to impact pop culture, the potency is visible and viable even on the sonic structure that sells with Afro structural elements, neatly.
John Legend's "Coming 2 America" soundtrack feat. Burna Boy
The soundtrack for "Coming 2 America" is such an exceptional record,
and for the reason of Burna Boy's appearance, it boldens Afro cultural significance, as well as Rema on Jae5's "Dimension."
Afro Beat

Global Impact and Influence
The order of these song lays very huge mark as a potential influence to record pop culture moments that are very far from Lamba,
as these particular record should be perceived as a creative mishap for pivotal introspection against societal flaws for the change in Africa, respectively.
"Coming 2 America" soundtrack is a very simple elaboration of America on a good spotlight,
mostly the part of New York that correlates with the iconic movie, starring legendary black American comic actor, Eddie Murphy.
The neat elaboration was curated by John Legend who took the mantle upon himself to sell,
and simmer his great nation into the mind of Africans in various communities,
because they support black culture, whereas, Burna's take was at a pivotal effect to sustain America in the spotlight,
while flawed Africa and put their sins on the light also.
It comes from exposing their heinous leaders who've been wrapped around and tied strongly in corruption and greed.
Lamba is good, but when tracks like this are mentioned for its potent carriage to change us let us move with it,
embrace and sell it to the spaces and to the people they belong to, and expose what they hide from us;
pop-culture enthusiast who understands at some level how these songs can shape our perspective and embrace the change we deserve indeed,
Shouldn't ever with-hold what they vision through this records, like I mentioned through free, easy, simple, and my truthful publication.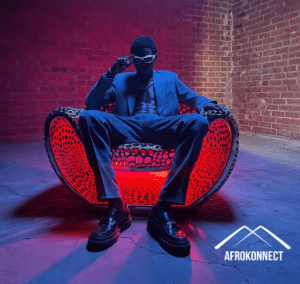 We hope you enjoyed this article about West African Music: The Impacts and Influence In The Globe and Afro beat Today.
Written By: Israel George –  Afrokonnect.
Introduction credits: Wikipedia